Takashi Amano Photo exhibit at G8 Hokkaido Toyako Summit
Two landscape photos of Takashi Amano were displayed at G8 Working Lunch / Outreach Working Session of Hokkaido Toyako Summit held from July 7th till 9th 2008. The photos of pristine cedar tree forest in Sado Island taken by 8x20 inches large format camera were exhibited on the 4.0x1.5m panel.
Environment and climate change is one of the main themes of the summit, and it was our great honor to exhibit the natural landscape representing Japan at the G8 Working Lunch/Outreach Working Session where leaders of G8 countries got together.
G8 Working Lunch / Outreach Working Session of Hokkaido Toyako Summit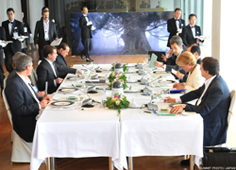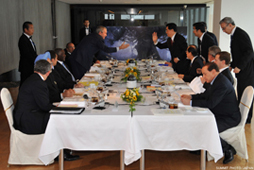 Link to G8 Working Lunch Pictures (July 8), Outreach Working Session (July 9)
Landscape photos displayed at G8 Hokkaido Toyako Summit